In anticipation of the Leonardini Family's 25th Anniversary of winemaking excellence at Whitehall Lane Winery, proprietor Tom Leonardini Sr. and winemaker Jason Moulton present two exclusive wines worth celebrating.
They made both of these wines in complete secrecy, selecting individual barrels from two of the five Bordeaux red varietals at Whitehall Lane. One wine is made from one of the five Bordeaux grapes (I de V), and the other is a blend of two Bordeaux grapes (II de V).
These clandestine offerings are the most exclusive wines ever produced at Whitehall Lane, but what exactly are they? Only Tom and Jason know for sure.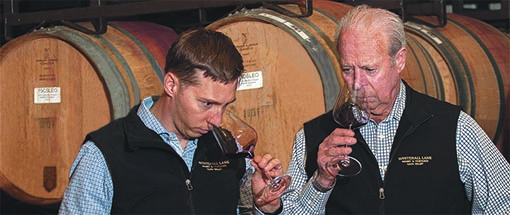 The "V" program marks a new era in winemaking at Whitehall Lane and the 2015 vintage is already being secretly inspected for a potential I, II, III or IV de V red wine. While the varietals will always remain secret, the experience you have with them will not.